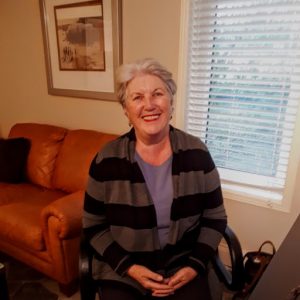 Born and raised Anglophone in Montreal.
First work: waitress, bartender, assistant manager, manager of Steak n Burger Tavern in Toronto.
Adventurer: followed the hippie trail up to northern tip of Vancouver Island, BC. Drove 170 ton truck in a copper mine for a year.
Traveled the gringo trail for over a year through Mexico and Belize.
Transit driver, taxi driver, Sarnia, Ontario 1979-1980.
First female provincial bus driver in Ontario (Gray Coach Lines) 1980-1987.
Adopted 5 year old daughter from Toronto Children's Aid Society in 1997.
Active member of the Neighbourhood Universalist Unitarian Congregation from 2004 to 2018.
Enjoy walking, cycling, reading, gardening, travelling.
Opened psychotherapy / counseling private practice (1985 – present).
Toronto Institute for Human Relations: group specialist / therapist trainer – inter-subjective approach. Therapist use of 'self in relation' as model for growth / change.
CAMH (Canadian Association for Mental Health). Internship in addictions training with focus on families of substance abusers.
Women's College Hospital Brief Psychotherapy Clinic. Externship in Brief, Solution Focused Therapy. Emphasis on goal setting and short term counseling.
Centennial College. Professor of Psychology and Stress Management (1999 – 2009).
Shepell: Employment Assistance Provider. Brief, solution focused telephonic counseling to workers across Canada (2005 – present).
OAMFT (Ontario Association of Marital and Family Therapy). Training, studies, supervision in couple / family therapy using family systems approach (2005 – 2011).
Completed Externship and Core Skills training in Emotionally Focused Therapy for Couples (EFT).

Ran psychotherapy/counseling private practice in Toronto from 1985 to 2018.
High honours from Seneca College's Social Service Worker program (1980). Nominated valedictorian.
Bachelor of Arts in Sociology from York University, Toronto (1983)
Bachelor of Social Work from York University, Toronto (1987)
Masters in Social Work from Wilfrid Laurier University, Waterloo, Ontario (1992)
If you have any questions on what to expect when working with a psychotherapist like me, please see the FAQs.